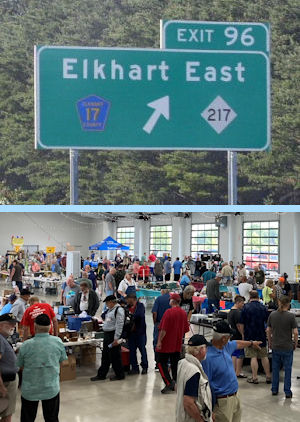 The Northern Indiana Event Center Pavillion is conveniently located near Exit 96 (Elkhart East
exit) of the Indiana Toll Road (I-80/90) on County Road 17. The Event Center is on the same
campus as the Manufactured Housing/Recreational Vehicle (MH/RV) Hall of Fame and Museum.
Over 22,000 square feet of indoor market for Amateur Radio, Hobby Electronics, Computer
Equipment, and more. 125 tables of retail, wholesale, and consumer vendors. Indoor tables
are $15 each. Electricity is available (you must provide your own extension cords).
Large outdoor market area with up to 60 (34' x 67') designated areas. Each outdoor area
provides enough space to park your vehicle, a trailer, and still have plenty of room to sell.
The outdoor market is located adjacent to the main building for easy access. Outdoor
spaces are $25 each (no tables, chairs, or electricity provided).
Admission tickets are $8 each. Your admission ticket also provides discounted admission
to the RV Hall of Fame and Museum (next door to event center). Vendors receive one free
admission with table or outdoor space purchase. Children 12 and under admitted free.
Amateur Radio License Exams will be administered for all license classes (technician,
general, and amateur extra) by a VE Team to be determined.
If you would like a printable copy of the Elkhart East Hamfest flyer as a reminder
(or to pass on to your friends or social media), Click Here!