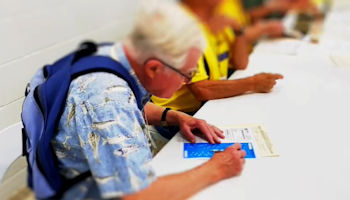 A VE team from one our local amateur radio clubs will be offering Amateur Radio License examinations for all license classes (Technician, General, and Amateur Extra) during the hamfest.. Details regarding fees, required documentation and testing hours will be posted when finalized.

The FCC is now requiring new applicants (those without an FCC ULS account) to create an account on the FCC ULS System prior to examination. To save time on-site, please create an account on the FCC ULS system (if you don't have one already) and have your assigned FRN number available upon arrival for testing.

Upon passing your exam and payment of a $35 licensing fee to the FCC, you will receive your license (valid for 10 years) by email.